DIY Outdoor Colonial Stone Fireplace Kits for Sale in Flagstaff
Create a space to unwind beneath the Arizona sky with the Colonial outdoor fireplace from Block-Lite. Colonial stone fireplaces combine sophisticated style with a modest footprint, making them the ideal centerpiece for outdoor living spaces of any size. So whether you're looking for a quiet sanctuary to keep warm beneath the stars or a place for friends and family to gather together, the modern Colonial fireplace is the perfect upgrade for your patio or yard.
Our outdoor gas fireplace and wood-burning fireplace kits come with everything you need to complete construction in a single day, making them an attractive and affordable solution. Each kit comes with pre-cut blocks, step-by-step instructions, and all the components and adhesives you'll need to complete the two-person installation.
Description
The Colonial stone fireplace pairs traditional style with an unimposing footprint. Measuring a mere three feet wide and just under six feet tall, this timeless option is easy to situate in small and large outdoor spaces, creating an instantly appealing centerpiece that beckons family and friends to gather.
With 2.25" firebrick ensuring its durability and safety and an optional gas burner, the Colonial outdoor fireplace is a versatile option for Arizona homeowners looking to add warmth and comfort to their outdoor living space. An optional wood box kit and hearth kit are also available so you can customize your colonial fireplace design to suit your space and needs.
Colonial Fireplace Kit:
40″ W x 32″ D x 70″ H
2.25″ protective fire brick
Colonial Wood Box Kit: (optional)
32″ W x 32″ D x 34″ H
Available left or right side
Colonial Hearth Kit: (optional)
Scarlet Oak Gas Log Set: (optional)
12 pc set w/304 stainless grate and burner – 18″ system, 75,000 Btu, natural gas or LP
Pilot light with safety thermocouple
About Colonial Fireplace Kits
With its classic silhouette and compact size, the Colonial outdoor fireplace kit is the crowning feature of any outdoor living space. Whether you're looking for a fireplace to complement a lounge area in your Phoenix backyard or want to add open-fire cooking to your Flagstaff outdoor kitchen, the versatile colonial fireplace is the perfect focal point to tie your space together.
Our outdoor gas fireplace kits and wood-burning kits make it easy to give your outdoor living space a custom-designed look at a cost-effective price. Each kit comes with everything you need to complete construction on your outdoor fireplace in as little as one day with only two people–all without any cutting, hassles, or guesswork.
Outdoor Fires in Arizona: What You Should Know
Whether you live in Phoenix, Flagstaff, or elsewhere in Northern Arizona, you should check with your homeowner's association and city ordinances before deciding how an outdoor fireplace fits into your design. Generally, you should plan to install your fireplace a minimum of ten feet from any other structures or vegetation on your property. Local ordinances may require a greater distance, and you may need to consider other precautions or permitting requirements.
In addition to following state and local guidance when choosing the site to install your outdoor fireplace, you should also become familiar with city and state fire restrictions. For example, many neighborhoods allow recreational fires fueled by clean, dry wood or gas without a permit. However, local fire ordinances may be updated in response to environmental and health conditions, and fires may be restricted entirely during the dry season.
Other Outdoor Fireplace Pits
Victorian Fire Ring
The Victorian Fire Ring gives a stylish new look to the traditional backyard fire ring with its clean lines and timeless appeal. Constructed with high-quality stone blocks and a US Park Service-grade steel insert, the Victorian fire ring is designed to withstand the elements and provide enjoyment for you and your family for years to come.
Victorian Fireplace
At more than 6 feet tall and 4 feet wide, the Victorian Fireplace is a mid-sized fireplace that's as versatile as it is beautiful. The Victorian outdoor fireplace kit includes attractive and durable 2.25" fire brick surrounding a steel insert and is customizable with an optional hearth kit, wood box, and gas burner kit and log set.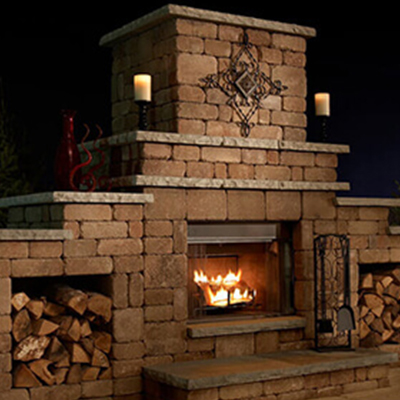 Grand Fireplace
The Grand Fireplace makes a bold statement with its pairing of a large profile and tastefully aged design. Standing more than eight feet tall, the Grand Fireplace is fitted with a 36" stainless steel wood-burning insert, spark curtain, and log rack and is adaptable to both natural and LP gas. In addition, an optional wood box kit, hearth kit, gas burner, and log set are available, making the Grand Fireplace fully customizable.
Grand Gas Fire Ring
Bring the nostalgia of childhood camping and cookouts back to life in your own backyard with the Grand Fire Ring. Measuring 12" high and 48" around, the Grand Fire Ring is easily situated in nearly any outdoor space. With a 31" internal diameter, it meets most Arizona city fire codes, and a smokeless and ashless gas fire ring kit is also available for those who reside in neighborhoods with open burning restrictions.
Contact Block-Lite to Learn More About the Colonial Fireplaces
Whether you use your outdoor living space to host large parties of family and friends or as a quiet retreat away from the hustle and bustle of the day, a Colonial Fireplace kit from Block-Lite is the perfect finishing touch to bring your space together. With easy-to-follow, step-by-step directions, and high-quality components, you can complete construction in under one day and enjoy your outdoor fireplace for years to come.
For more than fifty years, Block-Lite has been proud to serve Phoenix, Flagstaff, and the surrounding communities in Northern Arizona, providing the highest quality hardscaping, masonry products, and outdoor living kits. If you're planning to add an outdoor fireplace to your patio or backyard, our team of experts is here and happy to help–Contact us today!