Local Masonry
For commercial or residential projects, Block-Lite manufactures a large selection of concrete masonry units to meet your projects demands.
Hardscape & Outdoor Living Supply
Block-Lite is a third-generation, family-owned-and-operated business dedicated to helping DIY enthusiasts and contractors alike make the most of their masonry and hardscape projects and outdoor living spaces. We manufacture a wide range of quality hardscape products and kits designed to elevate your project or property.
Create a backyard oasis that dreams are made of. Pave a beautiful driveway, a convenient walkway, or a spacious patio. Construct a retaining wall that defines a landscape. Whatever you decide to build, our durable, attractive masonry products will stand the test of time and look as good as they function for years to come.
Here For Homeowners
We guide homeowners through their DIY projects
Fast B2B Turnaround
Can turn around custom orders in half the time.
Quality Products
We keep our inventory stocked so what you see is what you can get.
Sustainability
Locally sourced materials.
Create Stunning Spaces with Outdoor Living Kits
Ready to expand and uplift your outdoor spaces? It's simple with our easy-to-assemble outdoor living kits! Whether you're adding an impressive outdoor fireplace, a contemporary fire ring, an enchanting waterfall, or a beautiful table, our full line of ready-to-assemble kits add stylish, functional, durable elements to your property. Cultivate a private spot for relaxation or a lively place to gather, and rely on our outdoor living kits for complete solutions that personify any space. They contain everything you need to build features that elevate any mood and aesthetic.
Searching for a fire pit that's built different from traditional fire rings? The Victorian Stone Fire Ring Kit features clean lines, crisp angles, and a square shape that looks smart in any outdoor space. It's easy to install and easy to use, fitting standard logs and featuring a perimeter that allows for ample airflow, which makes it easier to light and stay burning bright.
Shed a little light on your hardscaped spaces with natural illumination from our Grand Gas Fire Ring Kits. Not only are gas fire pits far more efficient than wood, they're also safer—there are no matches, kindle, or flammable fluids to worry about! Featuring push-button electronic ignition and an auto shut-off safety feature, it's never been easier (or safer) to add the cozy glow of a gas fire pit to your outdoor living area.
Looking for the perfect centerpiece for your outdoor living area? Look no further than the Grand Fire Ring Kit. This fire pit is perfect for both small and large areas, and creates a warm, inviting glow wherever it's installed. The Grand Fire Ring is built to provide years of cozy enjoyment in your outdoor space.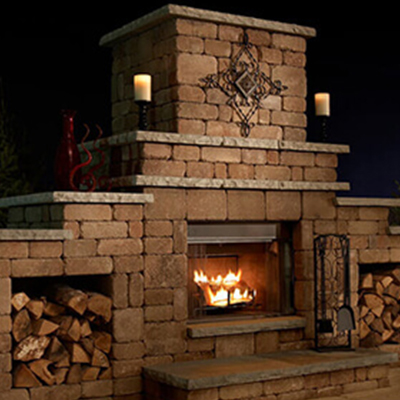 Ready to create a stunning centerpiece for your outdoor living space? The Grand Fireplace Kit comes with everything you need to craft a stunning fireplace that serves as the focal point for gatherings and long evenings spent taking in the outdoors. Measuring an impressive 8 feet high and up to 12 feet wide, the Grand Fireplace stands as a stunning focal point for your outdoor living area.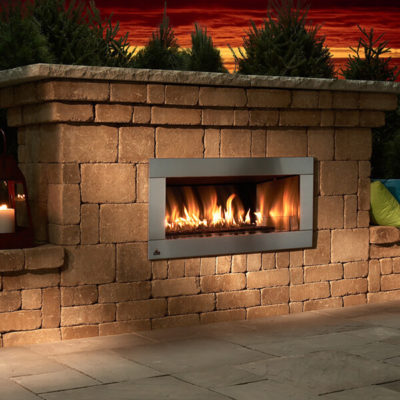 Give your outdoor living area undeniable flair with Contemporary Fireplace Kits. This stone fireplace is the perfect backdrop for family and friends to gather around, whether you're enjoying a quiet evening at home or entertaining a full group. It's easy to install and easy to operate—in just a day you'll build a contemporary backyard gathering place you'll enjoy for years to come.
Combining sophisticated style with a modest footprint, the Colonial Stone Fireplace Kit can be built in a single day and provides years of lasting enjoyment. Measuring just three feet wide and six feet tall, the Colonial is perfect for smaller outdoor spaces that demand an appealing centerpiece. You'll have no trouble gathering family and friends around it.
Featuring a streamlined, modest design, the Compact Stone Fireplace is the ideal addition to patios or yards of all sizes. It's affordable and easy-to-assemble, including everything you need to complete construction in just one day. If you're looking to add a special feature to your outdoor area without sacrificing hardscaped space, this fireplace offers the perfect marriage of ostentation and conservation.
Add undeniable style, sophistication, and value to your outdoor living area. The Victorian Stone Fireplace serves as a stunning testament to outdoor living, whether you use your space as a quiet retreat or a gathering place for friends and family. The detail and sophisticated design of this fireplace instantly attract attention and continues to captivate once it's lit.
In partnership with the popular Necessories brand, we offer an extensive selection of beautiful, affordable, and incredibly durable concrete stone tables that are just as stylish as they are functional. From dining tables to pub tables, bistro tables, and more, our concrete tables are easy to assemble and require minimal maintenance. They'll stay beautiful and functional for years to come.
Water features make any outdoor space instantly magical, from the soothing sounds they produce to the calming visual effects they create. Our DIY backyard waterfall feature kits come in a variety of sizes, so you can choose the perfect design for your space. All components and connectors are included, ensuring you have everything you need to get up and running – and enjoying your new water feature – in no time.
When it comes to creating an inviting outdoor living area, it's all about the details. Hardscape seat walls are just one detail you can't overlook. Not only do they add to the aesthetics of your outdoor space, they also provide a spot to sit—all while doubling the strength of retaining walls. Seat walls are practical and aesthetically alluring.
Our concrete stone pillar kits are the perfect addition to walls, fence posts, entries, courtyards, mailboxes, deck supports, and more. Cap off your retaining wall or create an elegant place for lighting by installing hardscape pillars. They look great as a standalone piece or as an anchor to other prefab outdoor features.
Take your outdoor entertaining to the next level with DIY Grand Stone Island Bars. Whether you're creating a complete backyard kitchen, a wine bar, or a place where anyone can pull up a stool and put down a drink, this island bar kit accommodates all serving styles. It's the ideal complement to spaces with pools, kitchens, fireplaces, and more.
Concrete Pavers
What does it take to create stunning driveways, inviting patios, and charming walkways? Beautiful, high-quality concrete pavers! Featuring a classic appearance and timeless beauty, our pavers are made to last a lifetime with little to no maintenance when installed correctly. By building your hardscape features with our premium pavers, you can have peace of mind knowing that you are investing in a product that will stand the test of time—in both style and function.
Designed to complement any style of architecture, from colonial to contemporary, cobblestone pavers are perfect for patios, walkways, driveways, and any other hardscape feature you can think of. Featuring simple, timeless style and crafted from quality materials, cobblestone pavers withstand heavy traffic, as well as changes in style and seasons.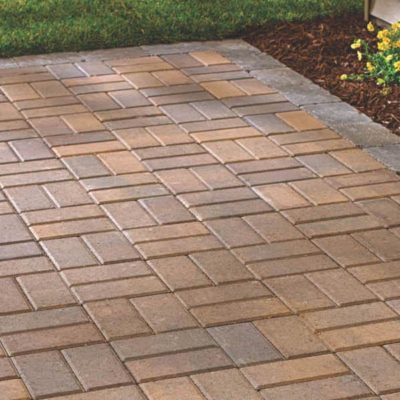 Available in four attractive colors, Holland Stone is a sophisticated yet economical paver system for all types of hardscape features, from patios to walkways, driveways to pool decks. They're made from durable, resilient materials and will withstand everything from seasonal weather to constant wear and tear.
Ridge Stone is a high-quality, premium three-piece paver system that creates unique and visually striking patterns for your courtyard, patio, and driveway. Each paver unit includes three differently sized, rectangle-shaped blocks that can be installed in various patterns to create unique modular designs for your outdoor space.
Wall Blocks
Our full line of Rockwood concrete wall blocks is perfect for a variety of applications, from large commercial landscapes to modest backyard spaces. These modular units are also called "dry stack wall units," and offer the ability to stabilize sloping terrain while defining and maximizing usable space. Since they're a dry stack unit, they don't require mortar joints. This allows for easier installation when it comes to simple wall designs or walls under 4 feet high.
Whether you're looking for a product to provide solid soil retention or to define your landscape, Classic 6 Concrete Retaining Wall Blocks are an excellent choice. Featuring a long, stone-like, low-profile appearance, the Classic 6 blocks are available in five colors and are ideal for sharp radius turns, variable setbacks, and almost any retaining wall design you can dream up.
The Classic 8 Concrete Retaining Wall Block is the high-performance block preferred by architects, designers, landscapers, and engineers worldwide due to its ease of installation, strength, and versatility. It's ideal for creating strength that critical wall applications require, for residential and commercial use alike. Whether you're adding privacy to a backyard sanctuary or you're building a retaining wall for commercial development, you can't go wrong with Classic 8 blocks!
Looking for a stylish product to create garden and flower bed retaining walls? The Classic Rockwood Cottage Stone Retaining Wall Block is ideal for everything from terraced gardens and tree rings to low retaining walls. Featuring a rear lip on the bottom of each block, Cottage Stone blocks align themselves, to allow for easy installation with the flexibility to create curves and other unique shapes. They offer exceptional durability and timeless appeal.
The StoneHedge 6 Concrete Landscaping Wall Block is an attractive freestanding wall system that's perfect for decorative enclosures like privacy walls, seat walls, partition walls and much more. Featuring a unique design and several color options, this versatile and attractive block is the ideal product for any freestanding wall.
Our full line of Riverland Concrete Landscaping Wall Blocks is ideal for creating curved seat walls that add both flair and function to any outdoor space. Available in a range of sizes and colors, their easy-to-estimate lengths allow for seamless project planning and execution. Working with the Riverland Wall Blocks is a great way to expedite hardscape construction times without sacrificing the stylistic quality of the end product.
Looking for an efficient concrete wall block that will add flair and function to any outdoor living area? The Lakeland Concrete Landscaping Wall Blocks are the solution. These durable blocks are available in a range of colors to match the hardscape elements of your space. With easy-to-estimate lengths, you'll have no trouble finding exactly what you need and installing them all on your own.
From commercial-grade masonry mortar, concrete, grouts and more, we're a full-service manufacturer and supplier of masonry and hardscape products of the highest caliber. We make our bulk cement, mortar, lime, and concrete available to our customers at the lowest possible prices. Tell us what you need and we'll make sure you get the best possible product, at an exceptional price.
Concrete cinder blocks not only provide beautiful architectural detail, they also ensure long-lasting performance in safety, strength, and longevity. We offer a large selection of standard concrete masonry units and have the capability to manufacture special-order units according to custom specifications. We produce custom blocks based on weight classification, aggregate type and size, integral color, integral water repellent, flashed color, and much more.
We can also customize our cinder blocks in aesthetic ways, too. We can uniquely machine and further process our blocks to create a full range of face styles and textures, including smooth face, split face, ground face, striated-face, flashed color, vertical score, fluted, bullnose, slump, tumbled, and more.
Regardless of what type of masonry or concrete feature you're assembling, you need steel reinforcement to provide long-lasting stability. We carry a full range of steel reinforcement products, including rebar, angle iron, steel lintels, anchor bolts, ladder wire, metal lath, and other masonry hardware and fasteners. Our inventory of steel reinforcement products ensures your hardscape and outdoor living features remain stable, even in the face of time, weathering, and human activity.