DIY Outdoor Victorian Stone Fireplace Kits for Sale in Flagstaff
Upgrade your backyard or patio and increase your home's value by creating a cozy and sophisticated outdoor living space with the mid-sized Victorian Outdoor Fireplace. Whether you're building a private retreat where you can relax at the end of the day or a gathering place for all your loved ones, the Victorian Fireplace will transform your outdoor space and offer enjoyment and comfort for years to come.
It's easy to see why Victorian stone fireplaces hold such universal appeal among homeowners in Flagstaff, Phoenix, and across Arizona. The modern Victorian Fireplace measures more than four feet wide and six feet tall, marrying a refined silhouette with ageless, sophisticated design. 
2.25" thick firebrick surrounds the wood-burning, gas-ready steel insert firebox, ensuring its durability and giving the Victorian fireplace an aged and elegant appearance. Victorian fireplace designs may be customized to suit your space and needs with an optional hearth kit, wood box, and gas burner kit with log set. 
Victorian Fireplace Kit:
52″ W x 32″ D x 89″ H

 2.25″ protective fire brick
Victorian Wood Box Kit: (optional)
32″ W x 32″ D x 42″ H

Available left or right side
Victorian Hearth Kit: (optional)
Scarlet Oak Gas Log Set: (optional)
12 pc set w/304 stainless grate and burner – 18″ system, 75,000 Btu, natural gas or LP

Pilot light with safety thermocouple
About Victorian Fireplace Kits
Our outdoor Victorian fireplace kits are an attractive and affordable alternative to expensive, custom-designed stone hearths and stoves. Each kit comes with all the components and adhesives you'll need for installation, along with pre-cut blocks and easy-to-follow step-by-step instructions. And, unlike with their pricey counterparts, as few as two people can install Victorian stone fireplaces in a single day.
Your Victorian fireplace kit includes everything you need to complete installation. However, please note that you will need to consult with your local planning board to check for any building restrictions and obtain any required permits before beginning installation.
Outdoor Fireplaces in Arizona: What You Should Know
Whether your Victorian outdoor fireplace will serve as the centerpiece of an outdoor living room or add function and style to an outdoor kitchen, installing an outdoor fireplace requires a bit of planning. Before you can begin the installation of an outdoor stone fireplace, you'll need to check your city's building and fire ordinances as well as your homeowner's association bylaws. You may also need to obtain a permit and submit building plans to local authorities before you begin your build in some jurisdictions.
Though your local laws may vary, a general best practice is to situate your outdoor fireplace at least ten feet away from any vegetation of other structures. If you live in a neighborhood with open burning restrictions, a Victorian gas fireplace insert is available, which may be more suitable for your needs.
After you've completed the installation of your outdoor Victorian gas fireplace or wood-burning fireplace, you'll need to stay aware of fire restrictions at the local and state levels. Many Arizona neighborhoods allow recreational backyard fires without a permit unless it is a declared No-Burn Day. However, residents in Flagstaff, Phoenix, and other parts of Arizona may be restricted from even small backyard fires during the dry season, so it's important to always check for temporary changes or updates to fire ordinances where you live.
Other Outdoor Fireplace Pits
Compact Fireplace
If you're seeking a stylish outdoor fireplace but don't want to sacrifice a lot of space, the Compact Fireplace is a perfect choice. At six feet tall and a mere three feet wide, the Compact Fireplace is a versatile solution for small and mid-sized yards and can be customized with an optional heart, wood box, and gas-burning log set.
Victorian Fireplace
The Victorian Fire Ring brings the traditional backyard fire ring to a stylish new level. The square fire pit is constructed of US Park Service-grade steel and high-quality stone bricks. With its durable construction and enduring design, the Victorian fire ring is built to withstand the elements so you can enjoy it with your friends and family for years.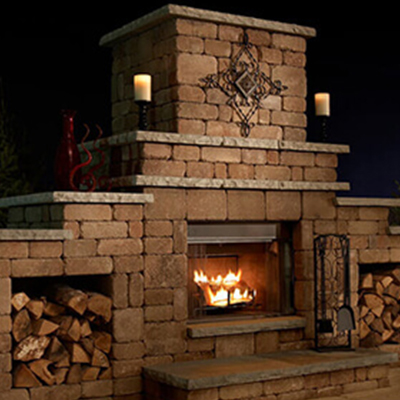 Grand Fireplace
The Grand Fireplace lives up to its name in both size and style. The Grand Fireplace is a tour de force of function and flair, measuring eight feet tall and up to twelve feet wide with optional wood boxes. Optional woodboxes, hearth kits, gas burners, and log sets are also available, so you can completely customize the Grand Fireplace to suit your space and needs.
Grand Gas Fire Ring
Spruce up any outdoor space with the classic and compact Grand Gas Fire Ring. Measuring 48" around and 12" high, the traditional round Grand Gas Fire Ring is suited to nearly any outdoor space, and its 31" internal diameter meets most Arizona city fire codes. The Grand Gas Fire Ring is also smokeless and ashless–necessary features in neighborhoods with open burning restrictions.
Contact Block-Lite to Learn More About Victorian Fireplaces
If you're planning a luxurious outdoor entertaining space or a quiet backyard nook to escape the day, the Victorian outdoor fireplace from Block-Lite is the capstone of any design. Whether you're interested in outdoor Victorian gas fireplace kits or a traditional wood-burning design, your kit will contain all the high-quality building components you need. We deliver pre-cut stone blocks, step-by-step instructions, and all other necessary components and adhesives right to your door. Most installations can be completed in 1-2 days with as few as two people.
The local experts at Block-Lite have been proudly serving our community for more than fifty years. Whether you're looking for hardscaping and masonry products or outdoor living kits, our team is always happy to offer their insight and advice to help you find the best products and solutions for every project. So, contact Block-Lite today if you're thinking of adding a Victorian stone fireplace to your outdoor living space.