DIY Outdoor Grand Stone Fireplace Kits for Sale in Flagstaff
Every home has a heart—a space that naturally draws friends and family near to sit, eat, laugh, and make memories. Your outdoor living space is no different. Adding a fireplace to your outdoor living room or patio gives your guests and family a place to gather close, long after the sun has set.
The Grand Fireplace Kit comes with everything you need to build the centerpiece of your outdoor living room in a single day, including pre-cut blocks and components, adhesives, and step by step building instructions.
Description
Measuring 8 feet high and up to 12 feet wide (with optional wood boxes), the Grand Fireplace will be the pride and joy of your outdoor living space.
Grand Fireplace Kit:
60″ W x 36″ D x 96″ H
36" stainless steel wood-burning insert
Spark screen and steel log rack
4′ stainless steel stovepipe chimney with spark suppressor cap
Optional gas burner log set
Grand Wood Box Kit: (optional):
40″ W x 36″ D x 50″ H
Available for left or right side
Grand Hearth Kit: (optional):
60″ W x 20″ D x 10″ H
About Outdoor Fireplace Kits
An outdoor fireplace is the perfect finishing touch to your outdoor entertaining space, providing a stylish anchor to your design while keeping friends and family warm on chilly nights. Outdoor fireplaces can also be integrated into your outdoor kitchen plans so you can dish out delicious homemade pizzas or serve up plate after plate of gooey s'mores.
No matter your goal, installing an outdoor fireplace requires careful planning. You'll need to check your homeowner's association's bylaws as well as city ordinances to ensure your outdoor fireplace meets any codes or restrictions and may need to submit building plans to obtain a permit before you begin.
You'll also need to safely situate your outdoor fireplace. In general, you should plan to install your outdoor fireplace at least 10 feet from any structures or vegetation, though your local laws may dictate a greater distance.
The Grand Fireplace Kit is gas-log ready, making it suitable for many neighborhoods with open burning restrictions.
Outdoor Fires in Arizona: What You Should Know
If you live in Arizona, you're probably familiar with many of the fire restrictions in place in the state and your city. Whether you live in Phoenix, Flagstaff, or Prescott Valley, it's essential to understand and follow all state and local fire ordinances. And, because they can shift in response to various health and environmental factors, you should always be on the lookout for any changes or updates to them.
For example, residents in many parts of Phoenix can enjoy recreational fires without a permit unless it is a declared No Burn Day and provided they burn only gaseous fuels or clean, dry wood. However, residents in specific Maricopa County neighborhoods, including many Phoenix neighborhoods, may not burn recreational fires at all between May 1 – September 30.
Local fire restrictions for Flagstaff residents are declared in stages, limiting the types of fires allowed or prohibiting them entirely depending on various factors. While small backyard campfires are generally allowed without a permit in Flagstaff, even these can be forbidden under certain conditions, particularly during the dry season.
Other Outdoor Fireplace Pits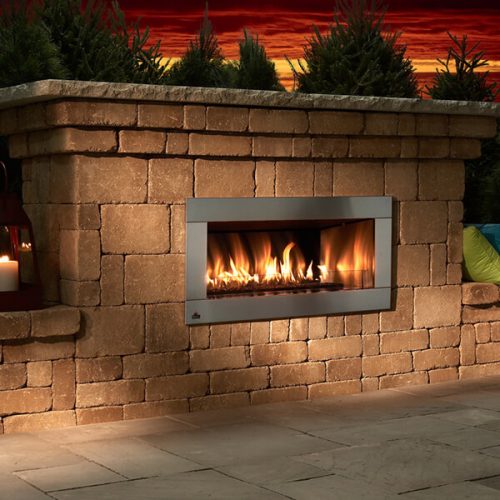 Contemporary Fireplace
The crisp, clean lines of the Contemporary Gas Fireplace Kit lends timeless sophistication to your outdoor living space. Features a stainless steel FireGear ventless gas-burning insert with wireless electronic ignition and a clear glass windscreen, and available with optional Contemporary Hearth Kit.
Victorian Fireplace
Measuring more than 4 feet wide and 6 feet tall, the Victorian Fireplace Kit makes a bold impression in the outdoor landscape. 2.25" firebrick surrounds the wood-burning firebox, and an optional gas-burning log set, wood box, and hearth kit are also available.
Compact Fireplace
The Compact Fireplace Kit is the perfect choice for homeowners seeking an outdoor fireplace with a smaller footprint without sacrificing style. Measuring a mere 3 feet wide and 6 feet tall, the versatile Compact Fireplace Kit adapts to your space and your needs with an optional hearth kit, left or right wood box, and gas-burning log set.
Colonial Fireplace
Sharing the Compact Fireplace Kit's modest size, the Colonial Fireplace embraces traditional styling for a classic, refined look. Optional left or right wood box, gas-burning log set, and optional hearth kit make it easy to adapt the Colonial Fireplace to fit your space and needs in every way.
Contact Block-Lite to Learn More About the Grand Fireplace
At Block-Lite, we're proud of our 50+ year history serving our friends and neighbors in Phoenix, Flagstaff, and throughout Arizona. We've helped Arizona homeowners and businesses build bold, beautiful spaces with the highest quality hardscaping and masonry products available for three generations. Our friendly, experienced team is happy to answer any questions you have and provide expert advice to help you select the ideal outdoor fireplace kit for your home. Contact us today!