DIY Outdoor Victorian Stone Fire Ring Kits for Sale in Flagstaff
The Outdoor Victorian Fire Ring Kit provides the perfect solution when traditional round fire rings don't suit your style. With its clean lines and crisp angles, the square Victorian Fire Ring will add instant appeal and enduring charm to any outdoor space.
The easy-to-install Victorian Fire Ring will instantly become everyone's favorite gathering spot. Friends and family of all ages will gather around the warm, crackling fire to share laughs, roast marshmallows, and enjoy time together beneath the clear Arizona sky.
ADD-ON OPTIONS:
● Swivel Cooking Grate (not avail for the gas fire pit) – $199.00
The fire ring that's really a square…
Description
Whether you live in Flagstaff, Phoenix, or elsewhere in Arizona, there will always be cool evenings that call for a warm fire. The outdoor Victorian Fire Ring is an attractive alternative to the more basic, round fire pit designs. An optional swivel cooking grate provides 300 square inches of cooking surface and is easily removed when not needed or for cleaning.
The outdoor Victorian Fire Ring Kit comes with everything you need to complete installation with two people in as little as one hour. Your kit includes all the pre-cut blocks, components, and adhesives you need to complete your build, along with easy-to-follow, step-by-step instructions to guide you through the entire process.
Victorian Fire Ring Kit:
48" W x 48" L x 12" H (31" interior dia.)
Approximate weight: 1,300 lbs
Number of Pallets: 1
Easy to build in approximately one hour with two people
Includes a removable swivel cooking grate w/300 sq. in. of cooking surface that meets
ADA guidelines for single-handed operation
31" internal diameter meets the majority of city fire code
Heavy 7 gauge steel insert protects fire block
About Outdoor Victorian Fire Ring Kits:
As with any structural change or addition to your property, you should check city ordinances and homeowner's association bylaws to learn about any permits required or restrictions on placement. You should also call 811 to have your utility lines marked before you begin your DIY Victorian Fire Ring installation.
Ordinarily, fire pits and outdoor fireplaces should be installed a minimum of ten feet away from any buildings, vegetation, or outdoor structures, though local ordinances may dictate a greater distance.
Ease of Use
The 31" internal diameter of the Victorian Fire Ring makes it easy to build a fire using standard 15" logs while leaving enough space around the perimeter for ample airflow, making it easy to light your fire and keep it burning.
Cost
The Victorian Fire Ring kit can be installed in under a day at a fraction of the cost of a full-sized outdoor fireplace.
Maintenance
The Victorian Fire Ring is built to last with high-quality fire brick and a US Park Service-grade steel insert, and will require little maintenance beyond removing ash and cleaning the cooking grate after using it.
Safety
Follow local building and fire ordinances when installing your fire pit, and be sure to place it at least ten and up to twenty feet from structures or vegetation to ensure its safe use.
Outdoor Victorian Fire Rings in Arizona: What You Should Know
Many Arizona cities have fire regulations that you'll need to learn and follow closely. In addition to dictating where you can install your fire pit, these ordinances may also:
Limit when you can have an outdoor fire
Limit the type of outdoor fire you can have
Prohibit open burning of any kind
It can be challenging to keep on top of local fire conditions and restrictions. Often, burning restrictions change with the season or in response to environmental conditions. For example, many Phoenix neighborhoods allow recreational fires without a permit, provided you burn only gaseous fuels or clean, dry wood. However, in neighboring parts of Maricopa County, residential fires are prohibited between May 1 – September 30, regardless of the fuel source. Flagstaff residents and others in Coconino County face similar burn bans during the dry season and may face restrictions on fuel type and fire size throughout the year.
Other Outdoor Fireplace Pits
Grand Fire Ring
Constructed with Rockwood fire ring block and durable 7-gauge steel, the Grand Fire Ring will withstand the elements so your family can enjoy it for years to come. The easy-to-assemble fire ring measures 12" high and 48" around, and its 31" internal diameter meets most Arizona city fire codes.
Grand Gas Fire Ring
The smokeless and ashless Grand Gas Fire Ring is an ideal option for those in neighborhoods with open burning restrictions. Like the wood-burning design, the Grand Gas Fire ring has a 31" internal diameter, meeting most Arizona city fire codes. And, at 12" high and 48" around, the Grand Gas Fire Ring is easy to situate in yards of all sizes.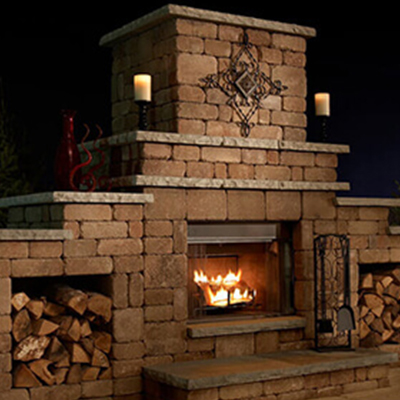 Grand Fireplace
The Grand Fireplace stands more than 8-feet tall and strikes a stunning silhouette in the outdoor living space. It has a stainless steel wood-burning insert and may be adapted for either natural or LP gas. An optional wood box, hearth kit, and gas burner with log set are also available, allowing you to personalize the design to suit your space and needs.
Victorian Fireplace
At more than 6-feet tall and 4-feet wide, the Victorian Fireplace lends sophisticated style and timeless appeal to the outdoor landscape. 2.25" firebrick surrounds and protects the wood-burning firebox, and the kit is customizable with an optional hearth kit, wood box, and gas-burning log set.
Contact Block-Lite to Learn More About the Colonial Fireplaces
Whether you use your outdoor living space to host large parties of family and friends or as a quiet retreat away from the hustle and bustle of the day, a Colonial Fireplace kit from Block-Lite is the perfect finishing touch to bring your space together. With easy-to-follow, step-by-step directions, and high-quality components, you can complete construction in under one day and enjoy your outdoor fireplace for years to come.
For more than fifty years, Block-Lite has been proud to serve Phoenix, Flagstaff, and the surrounding communities in Northern Arizona, providing the highest quality hardscaping, masonry products, and outdoor living kits. If you're planning to add an outdoor fireplace to your patio or backyard, our team of experts is here and happy to help–Contact us today!